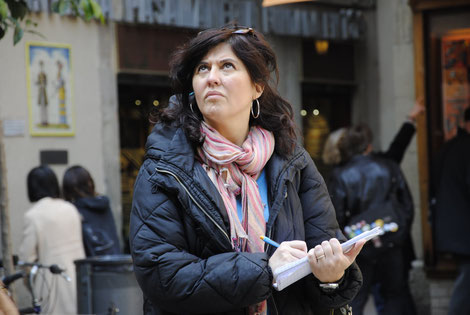 English (Castellano and Catalan below)
Text: Mercedes Salvador
Photos: Celia Miralles
Translation: Ken Green
In Barcelona, if you devote yourself to looking up, you will find another world very different from the bustle of the sidewalks, the shops and the restaurants to which you are accustomed. It's a hanging world that passes unnoticed by the majority; a world below which, we hurry to arrive at work on time or to the market before it closes.
It's the Barcelona of those who look up. The Barcelona of those who search farther. The Barcelona of those who are not satisfied with what they see every day. Neither Monica nor I knew much of that until, one day, we set out by motorcycle to photograph and describe what was above the shops. We found balconies full of plants that fell like the braids of Rapunzel and invited us to climb. Through the photos, we ascended as if in an amusement park and leapt among the multi-ringed cornices that could serve as models in a geometry class. We were captivated by a large photo of a child, face to face with a statue, which filled a cathedral's portal. By the way, does anyone know where that is?
We moved over a roof shaped like a dragon, slipped, and came down one of the lampposts that watch the city from their heights and illuminate those who search in the night for some consolation for the passage of years, only to cross paths with those who find it in lives shaped by phone calls and alarm clocks.
We became aware that the city transforms itself, thereby changing the light, and with it, those of us who fill its streets.
Later, we decided to take a walk on the hillside of Montjuic, where the Calatrava communications tower, built for the 1992 Olympic Games, appears as a rocket ready to be launched into space. There, one wonders if he is a character in of one of those futuristic films with flying cars and robots. The architect confessed in some interview that the tower is located in such a way as to form a sundial; that it implies a crossing of cultures. Just like Barcelona, which was born as Barcino in the Roman epoch, and has transformed itself into a cosmopolitan city. A city of the arts and of design, some call it. A liberal city say others; a city that welcomes immigrants, gays, musicians and members of the Polo Club. All together, but separate.
At sundown, while gazing at the skyline, we stared at the three chimneys of the FECSA power plant which are as much a part of the urban landscape as the pollution of that day. But the following day, from the same vantage point, appeared the citys balcony; the Mediterranean Sea sparkling in sunlight that filtered through the clouds. For Barcelona is, above all, a Mediterranean city filled with surprises. So we suggest that you look up, careful of the lampposts, in order to understand deeply what a privilege it is to live in BAR CEL ONA.
--------------------------------------
Note for English speakers who are unfamiliar with the city:
Spelling the city's name as BAR CEL ONA arose as a promotional device during the 1992 Olympics and, since then, has become popular with residents as an expression of pride. Each of the three syllables is a word in the Catalan language.
BAR - There are many bars in the city.
CEL - The sky.
ONA - A wave, as in the Mediterranean.
---
¿QUÉ SUCEDE CUANDO EN BARCELONA, MIRAS HACIA ARRIBA?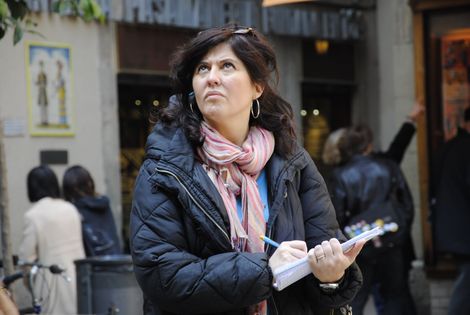 Castellano
Texto: Mercedes Salvador
Fotos: Celia Miralles 
En Barcelona si te dedicas a mirar para arriba, te encuentras con otro mundo muy diferente del bullicio de las aceras, de las tiendas y de los restaurantes, al que estás acostumbrado. Es un mundo colgante que nos pasa desapercibido a la mayoría, que corremos por debajo para llegar a tiempo al trabajo o a comprar al mercado o al supermercado antes de que cierren.
Es la Barcelona de los que miran para arriba.
La Barcelona de los que buscan más allá. La Barcelona de los que no se conforman con lo que ven cada día.
Monica y yo tampoco sabíamos mucho de eso, hasta que un día, paseando en moto, nos dedicamos a fotografiar y a describir lo que había por encima de las tiendas. Nos encontramos con balcones llenos de plantas que caían como la trenza de Rapunzel que nos pedían que trepáramos a ellos. A través de las fotos, nos subimos como si se tratara de un parque de atracciones y nos tiramos por cornisas en forma de circunferencia, que podrían servir para las clases de Geometría de las escuelas, Nos fijamos en la fotografía de un balcón con un niño asustado frente a una estatua. Por cierto, ¿alguien sabe dónde está?
Cabalgamos por un tejado en forma de dragón, para deslizarnos y bajar por farolas que observan la ciudad desde las alturas, e iluminan a aquellos que buscan en la noche, un consuelo al paso de los años y se cruzan con los que lo encuentran en vidas ordenadas de llamadas y despertador automático.
Nos percatamos de que la ciudad se transforma a medida que cambia la luz y con ella los que salimos por las calles.
Más tarde decidimos dar un paseo por la colina de Montjuic, uno de los pulmones de Barcelona, donde la torre de comunicaciones Calatrava, construida para los Juegos Olímpicos de Barcelona de 1992, parece un cohete que va a ser lanzado al espacio. Allí uno se plantea si es el protagonista de una de esas películas futuristas con coches voladores y robots. Aunque el arquitecto confiesa en alguna entrevista que la torre está colocada de forma que hace de reloj de sol. O sea que supone un cruce de culturas. Igual que Barcelona, que nació como Barcino en la época romana y se ha convertido en una ciudad cosmopolita. La ciudad del arte y el diseño la llaman algunos. Una ciudad liberal dicen otros, o una ciudad que acoge a gays, músicos, emigrantes y socios del club de Polo. Todos juntos pero no revueltos.
Al atardecer, al contemplar el horizonte fue cuando nos fijamos en las tres chimeneas de Fecsa, que forman ya parte del paisaje urbano al igual que la polución que había ese día. Pero al día siguiente, desde el mismo punto apareció la ciudad balcón, el mar Mediterráneo con destellos de sol que se filtraban por entre las nubes? Es que Barcelona, por encima de todo, es una ciudad Mediterránea llena de sorpresas. Por eso proponemos que mires para arriba, teniendo cuidado con las farolas, para entender a fondo el privilegio que es vivir en BAR CEL ONA.
---
QUÈ SUCCEEIX QUAN A BARCELONA, MIRES CAP AMUNT?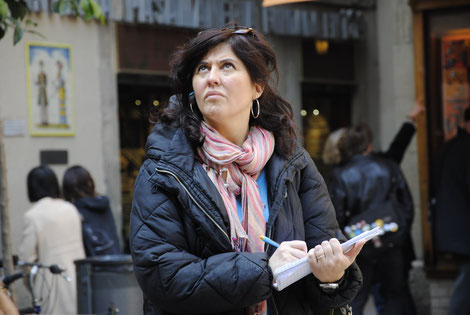 Català
Text: Mercedes Salvador
Fotos i traducció: Cèlia Miralles
A Barcelona si et dediques a mirar cap amunt, et trobes amb altre món molt diferent de la bullícia de les voreres, de les botigues i restaurants, als quals estem acostumats. És un món penjant que passa desapercebut a la majoria de nosaltres, que corre per sota per a arribar a temps al treball, a comprar al mercat o al supermercat abans del seu tancament, o a celebrar l'aniversari d'un amic.
És la Barcelona dels que miren cap a dalt. La Barcelona dels que busquen més enllà. 
La Barcelona dels que no es conformen amb el que veuen. La Monica i jo tampoc sabíem molt d'això, fins que un dia, passejant amb moto, ens vàrem dedicar a mirar què hi havia damunt de les botigues. Ens vàrem trobar amb balconades plenes de plantes que queien com la trena de Rapunzel per a que grimpéssim a ells. Ens vàrem pujar i com en un parc d'atraccions vàrem llençar-nos per cornises en forma de circumferència, que podrien servir per a les classes de Geometria de les escoles. Vam veure per primera vegada la fotografia d'una balconada amb un nen espantat enfront d'una estàtua. Algú sap on és?
Vàrem cavalcar per una teulada en forma de drac, per a lliscar-nos per fanals que observen des de les altures, i il·luminen a aquells que busquen en la nit, un consol a les seves vides que es compliquen més i més amb el pas dels anys, i es creuen amb qui ho han trobat en vides ordenades de trucades i despertador automàtic.
Ens vàrem adonar que la ciutat es transforma a mesura que canvia la llum i amb ella el personal que surt pels carrers.
Més tard vàrem decidir fer una passejada pel pujol de Montjuïc, un dels pulmons de Barcelona, on la torre de comunicacions Calatrava, construïda per als Jocs Olímpics de Barcelona de 1992, sembla un coet que serà llançat a l'espai. Allà un es planteja si és el protagonista d'una d'aquestes pel·lícules futuristes amb cotxes que volen i robots. Encara que l'arquitecte confessa que la torre està col·locada de manera que fa de rellotge de sol. O sigui que suposa un encreuament de cultures. Igual que Barcelona, que va néixer com Barcino, en l'època romana, i s'ha convertit en una ciutat cosmopolita; la ciutat de l'art i el disseny li diuen alguns, una ciutat liberal diuen altres, o una ciutat que acull a gais, músics, emigrants i socis del Club de Polo. Tots junts però no barrejats.
Més tard al contemplar l'horitzó va ser quan ens vàrem fixar en les tres xemeneies de la Fecsa, que ja formen part del paisatge urbà igual que la pol·lució. Però, a qui li preocupa el nivell de pol·lució quan a l'endemà, un pot treure el cap a una ciutat balconada, i veure el mar Mediterrani amb les espurnes del sol que es filtren entre els núvols? És que Barcelona és una ciutat Mediterrània, amb tradició marina i comerciant. Per això et proposem que miris cap a dalt, anant amb compte amb els fanals, per a entendre el privilegi que és viure a BAR CEL ONA.