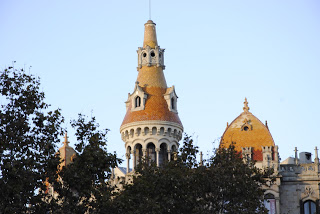 English (Castellano below)
Text: Mercedes Salvador
Photos: Celia Miralles
Translation: Ken Green
Barcelona is a city that fills the senses at all hours of the day and never leaves you indifferent. In the morning, the buildings of the city, wake up among yawns of orange light. The balconies hanging in the Plaça Reial, the colored domes and the still closed blind of the Coffee Inn draw another landscape with an identity of its own. The towers, especially after nights of fire by the "aldarulls," warn the rosettes and the central nave of the cathedral to wake up in the Gothic style. Above, a window, which seems to have come out of a supermax prison, remembers that Barcelona's history repeats itself.
The day passes, the sun shines high, there are streets cut off to traffic and the sunset comes, with a dance of shadows under the arches through the city, in stone reflections or behind Gaudí's lanterns, crouching, lurking or running with the Waves through the Barceloneta.
At dusk the ghosts of the past return between light and shadows, and reappear in the National Museum of Art of Catalonia that appears to sleep like a giant of a story, and the young run in front of the police with balaclavas.
Night falls and spreads its black wings, while terraces turn on their outdoor lights and heaters, when it is cold. The Hotel Majestic awakens, and from the hairdresser Cebado a model appears that indicates it is time to sleep, that tomorrow will be another day and perhaps politicians will sit and talk.
---
La ciudad de las formas, luces y sombras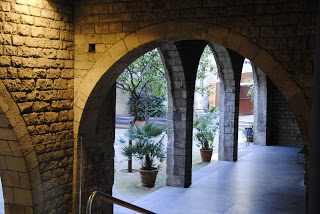 Castellano
Texto: Mercedes Salvador
Fotos: Celia Miralles
Barcelona es una ciudad que colma los sentidos a todas horas del día: por la mañana es bueno dirigir la mirada a los edificios de la ciudad que se están despertando con bostezos anaranjados. Son los balcones que cuelgan sobre la Plaça Reial, algunas cúpulas de colores o la persiana todavía cerrada del Mesón del Café. Porque las persianas de los negocios barceloneses también tienen su propia historia y colorido. Por supuesto los torreones no quieren ser menos y avisan a los rosetones y a la nave central de la catedral dedicada a Santa Eulalia, que se despierten para que nadie deje de fijarse y admirar su luminoso estilo gótico y. A lo largo del día, las miradas se concentran y se enfocan en los detalles, como si fueran máquinas de filmar, y encuentran una ventana que parece salida de una prisión de alto riesgo o una fuente en las que beben y se refrescan las palomas, porque ellas también habitan en esta ciudad mágica.
Pero lo más espectacular llega con el atardecer, cuando las sombras comienzan a bailar por la ciudad y aparecen por debajo de un arco, reflejadas en los edificios de piedra, o tras las bonitas farolas modernistas que cuelgan de las paredes. A veces, como una imagen icónica de la cultura del diseño que reina en la ciudad, se pueden ver al contraluz de los noventa y nueve metros que ocupa El Hotel Vela al final de la plaza de la Rosa dels Vents, en la playa de la Barceloneta. A medida que baja el sol, se encuentra uno en mundo fantasmagórico situado entre destellos de luz y tinieblas crepusculares, y aparece una visión diferente del Museu Nacional d'Art de Catalunya que se hallaba dormido, como un gigante de cuento.
Y entonces cae la noche sin compasión y las terrazas encienden las luces y, cuando hace frío, las calefacciones al exterior. El Hotel Majestic se levanta solemne y desde la peluquería Cebado se asoma una modelo que nos indica que es hora de marcharse a dormir.